Click here if you are having trouble viewing this message.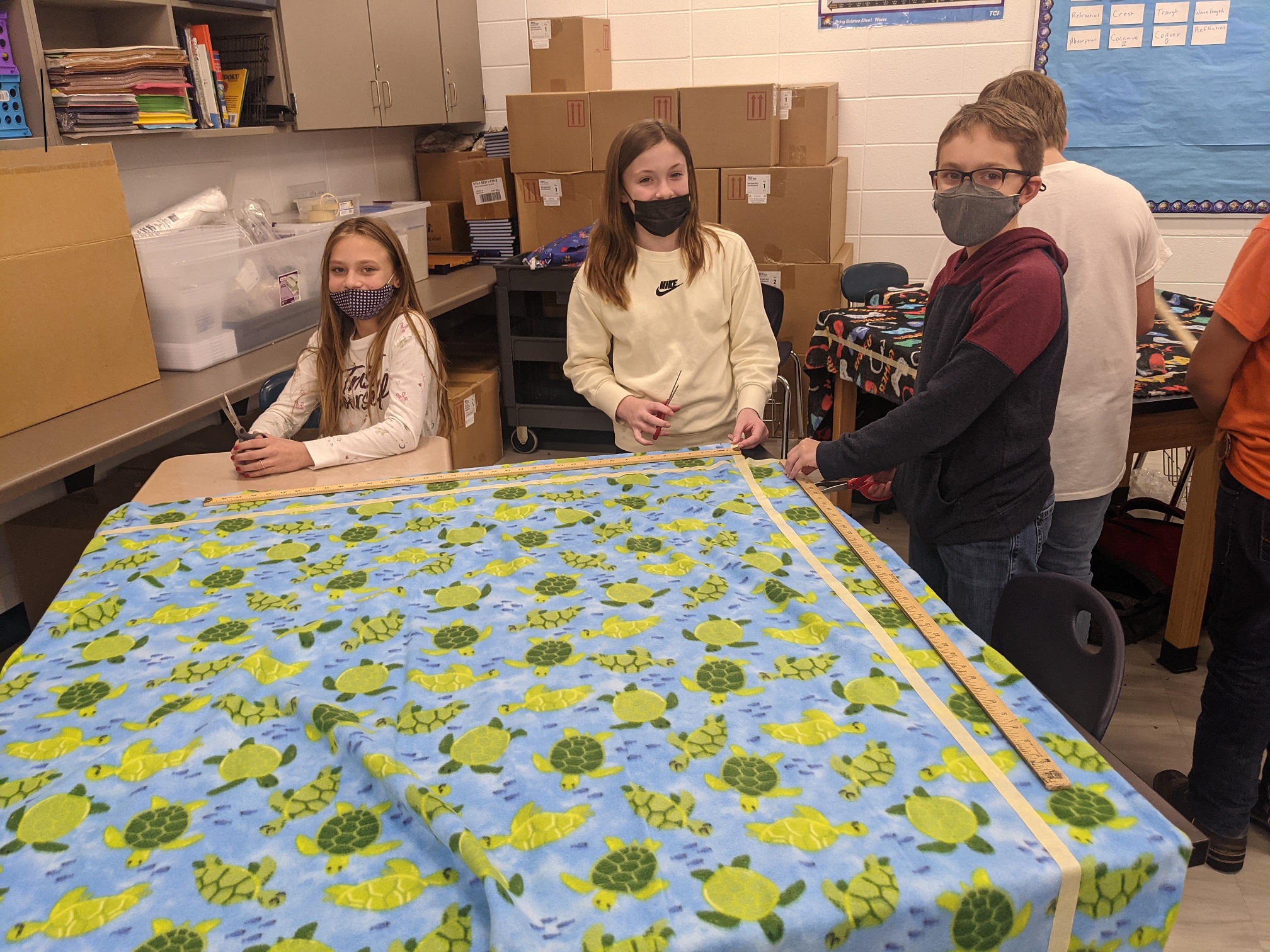 Parkland School in McHenry hosted its 10th annual Pay It Forward Day to show students that regardless of age or socioeconomic situation they can make a difference. All students participated to instill a sense of pride and accomplishment that encourages them to give back in the future.
Dear Colleagues,
Happy New Year! I hope the winter break gave everyone an opportunity to rest, recharge, and reflect on all that we accomplished together in 2021. I look forward to a new year full of learning and of helping our students' dreams become reality. I also know many families' holidays were disrupted by the ongoing surge in COVID-19 cases, and I continue to keep everyone impacted by the pandemic in my thoughts and prayers.
In line with the Centers for Disease Control and Prevention (CDC), the Illinois Department of Public Health (IDPH) has adopted the CDC's recommendation to reduce the number of days for isolation and quarantine for the general public. This applies only to 
the general public at this time. The CDC has not yet updated its guidance for school settings. The CDC's guidance for school settings continues to provide a 14-day quarantine for unvaccinated close contacts in school settings or participation in Test to Stay, stating: "Close contacts who are not fully vaccinated should be referred for COVID-19 testing. Regardless of test result, they should quarantine at home for 14 days after exposure. Options to shorten quarantine provide acceptable alternatives of a 10-day quarantine or a 7-day quarantine combined with testing and a negative test result." 
Therefore, IDPH announced on Dec. 30 that schools should continue to follow the current IDPH COVID-19 School Guidance, including the requirements for exclusion of students and school personnel. IDPH has been in communication with the CDC, which has said it expects to issue updated guidance for school settings soon. 
We understand that you are eager for this guidance, and we share your sense of urgency. At this time, please continue to follow the guidance currently in place, which adheres to the science and the data to protect students' access to in-person learning and ensure a safe environment for students and educators. ISBE is working with IDPH to update the school guidance as soon as we know more. 
In response to questions, I also want to restate the current guidance on the use of an adaptive pause. In general, an adaptive pause should not be necessary if the school is following all appropriate mitigation strategies. If the school is following guidance regarding masking, testing, and identifying and excluding COVID-19 cases and their close contacts, then an adaptive pause should not be necessary to mitigate an outbreak, and students are best served by continuing to provide in-person instruction.  
Please note that an adaptive pause means a temporary shift to remote learning for attendance days. Alternatively, schools may choose to take nonattendance days at any time for any reason and make up those attendance days later in the year. 
A school or school district may only enter into an adaptive pause with remote learning in consultation with the local health department and consistent with guidance or requirements from such local health department.  
I know we all hoped we would have COVID-19 behind us by this time. I never imagined that we would enter a third calendar year impacted by a global pandemic. However, I am heartened to see how much progress we have made. Masking, testing, and vaccination work. Schools interested in establishing a testing program using the SHIELD Illinois saliva test should complete this interest form. 
These strategies allow us to live, work, and learn with minimal disruptions. We started in the spring of 2020 with students having no access to in-person school. Now, our school leaders are equipped with effective strategies to keep students and staff safe, so teaching and learning can thrive. That's progress. That's amazing, and I cannot thank you enough for everything you have done to bring us to this point.  
Sincerely,
Carmen
In Case You Missed It
Each week, this section will contain a list of the resources and information posted to the COVID-19 webpage over the past week. Please continue to check the COVID-19 webpage for the newest updates and information.
NEW! EQUITY JOURNEY CONTINUUM
Preview Equity Journey Continuum Data Jan. 25 
The Equity Journey Continuum will help districts to view their data through the lens of equity to help identify gaps in students' access to opportunities, resources, and supports. 
Beginning Jan. 25, all districts will be able to preview their Equity Journey Continuum data before it appears as a new graphic element on the 2022 Illinois Report Card. Find more information on the following fact sheets: 
Ultimately, the purpose of the Equity Journey Continuum is to connect districts to resources that will help illuminate areas where districts may need to increase access, add resources, or seek supports to ensure all students can achieve success. Creating a more equitable school culture will benefit all students, all schools, and all communities. Learn more at www.isbe.net/equity. Ask questions by emailing equity@isbe.net.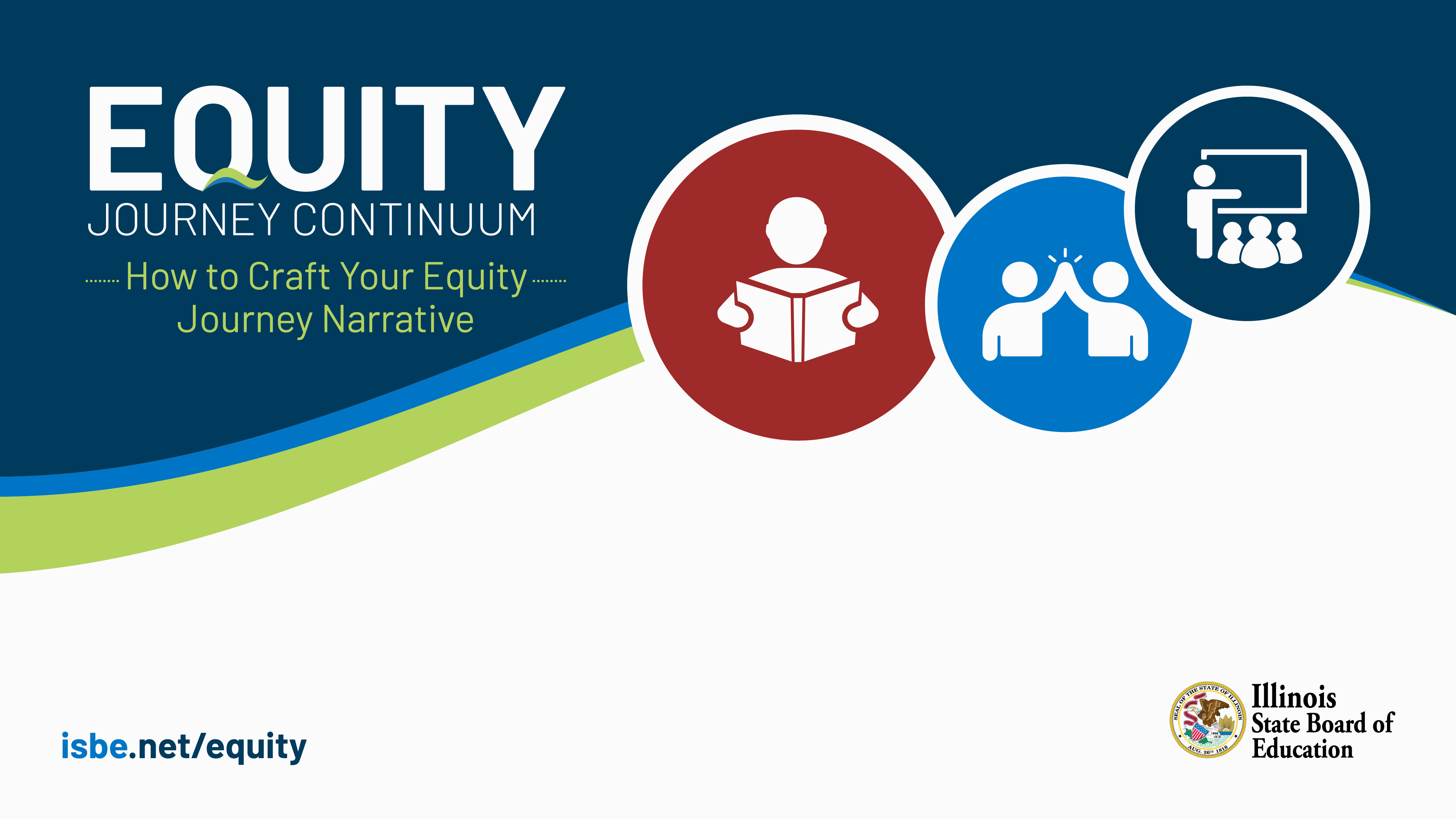 NEW! CTE & INNOVATION
CTE & Innovation Announces January Office Hours 
ISBE's CTE and Innovation Department will offer virtual office hours in January to support anyone who needs assistance or has questions on the following topics: 
Program Data Review/Local Needs Assessment 
9-11 a.m. Jan. 7 

1:30-3:30 p.m. Jan. 11 

10 a.m.-12 p.m. Jan. 19 

9-11 a.m. Jan. 28 
College and Career Pathway Endorsements 
11 a.m.-1 p.m. Jan. 12 

1:30-3:30 p.m. Jan. 25 
The links to the office hours are also available on the CTE website under News and Updates.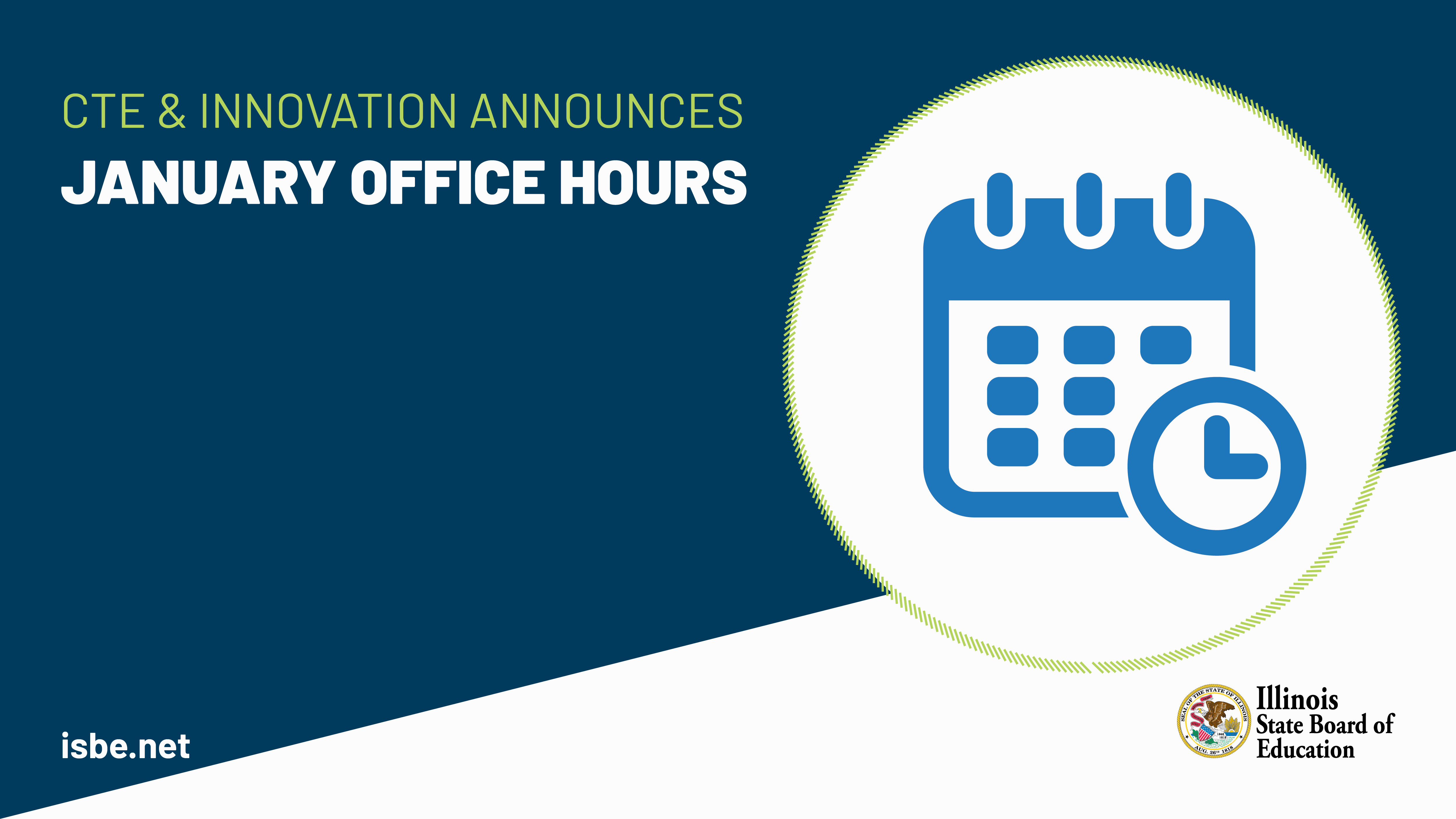 NEW! DATA STRATEGIES & ANALYTICS
Reminder: Data Collections Q&A Open Forum Webinar Jan. 13 
Don't miss this opportunity to ask ISBE staff questions about data collections. The next webinar in the monthly Data Collections Q&A webinar series will be at 10 a.m. Jan. 13. ISBE will not have a PowerPoint presentation or predetermined path for the discussions/questions; we invite districts to come ready with their questions! If needed, please contact the Data Strategies and Analytics Department Help Desk at datahelp@isbe.net or (312) 814-9192.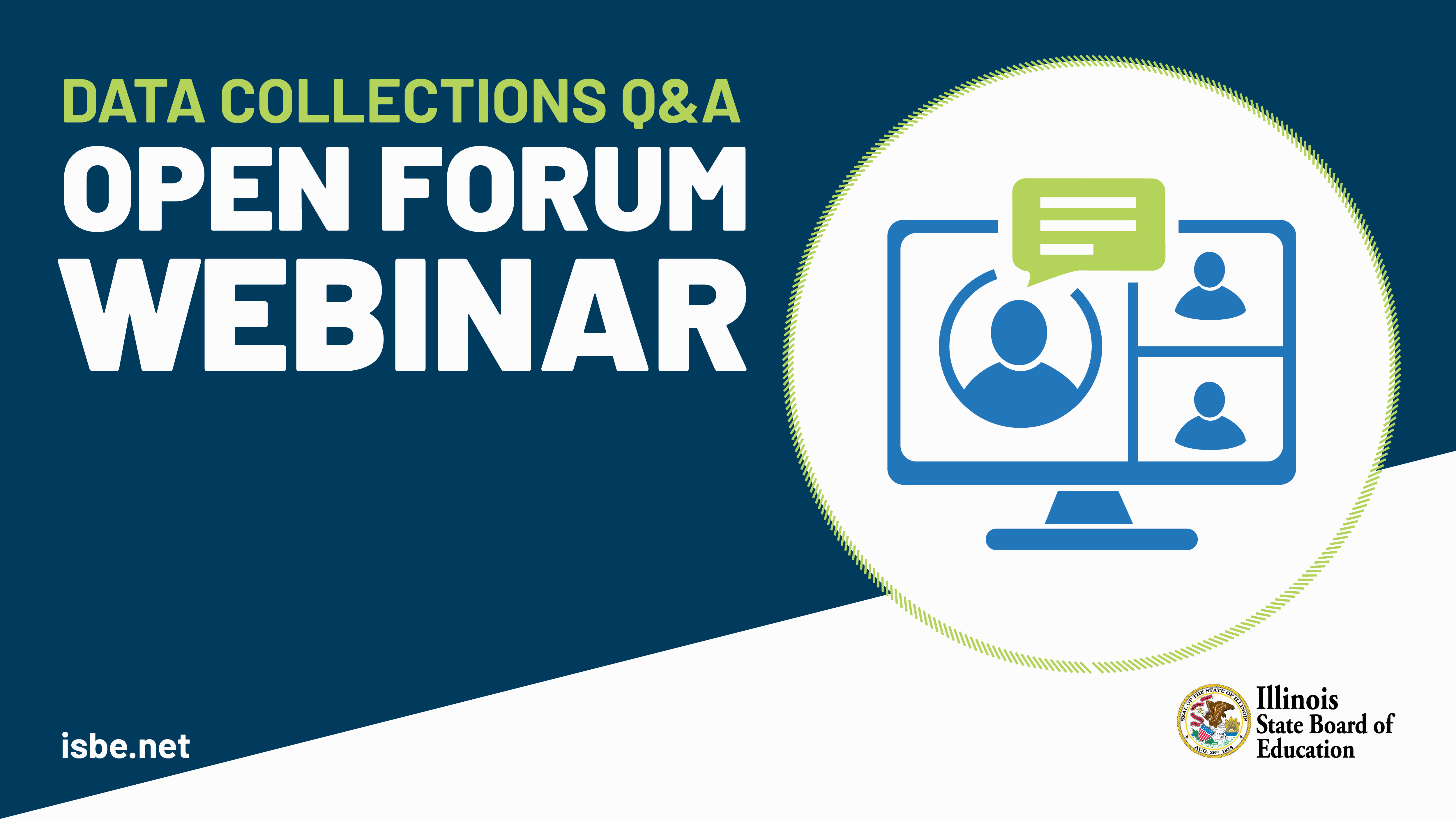 NEW! FAMILY AND COMMUNITY RESOURCES
Share Information About Illinois Rental Payment Program 
The Illinois Department of Human Services (IDHS) is accepting applications for the Illinois Rental Payment Program until Jan. 9. The program provides financial assistance for rent to income-eligible Illinois renters and their landlords who have been impacted by the COVID-19 pandemic. Renters in Illinois who are behind on rent due to COVID-19 may be eligible for up to $25,000 and 18 months of emergency rental payments. Please share this information and the link to apply with your school communities by visiting https://www.illinoishousinghelp.org/.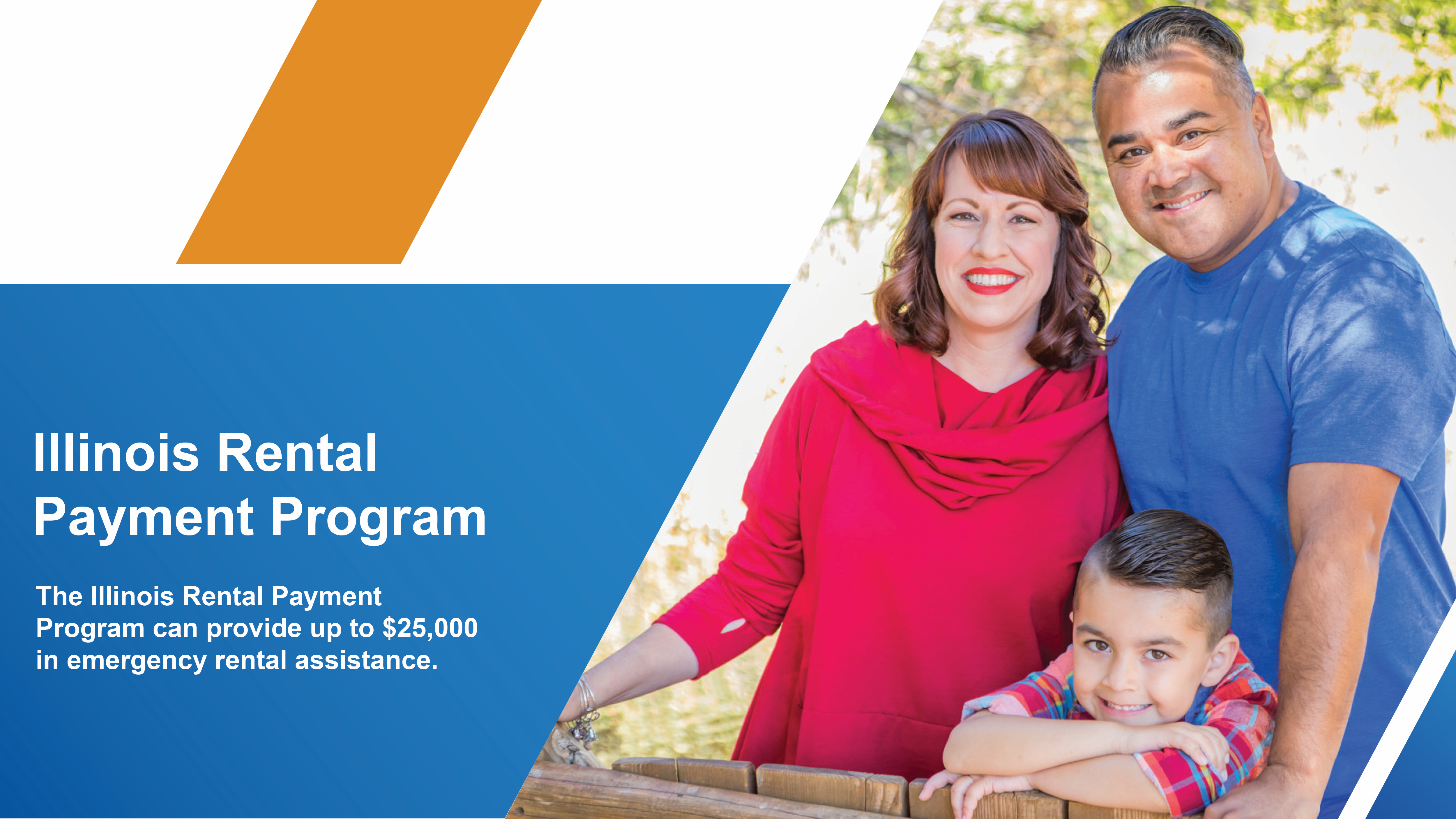 Illinois Commission to End Hunger Asking for Volunteers to Participate in Survey 
The Illinois Commission to End Hunger is working to improve nutrition programs for youngsters in Illinois. Feedback will help families in your school district! Participants will receive a $50 Visa gift card as reimbursement for their time. The survey will take approximately one hour and can be done over the phone or online with flexible scheduling. Please share this information with parents of school-age children. Contact Laura O'Carroll, public policy manager at the Greater Chicago Food Depository, at locarroll@gcfd.org or (773) 843-2846.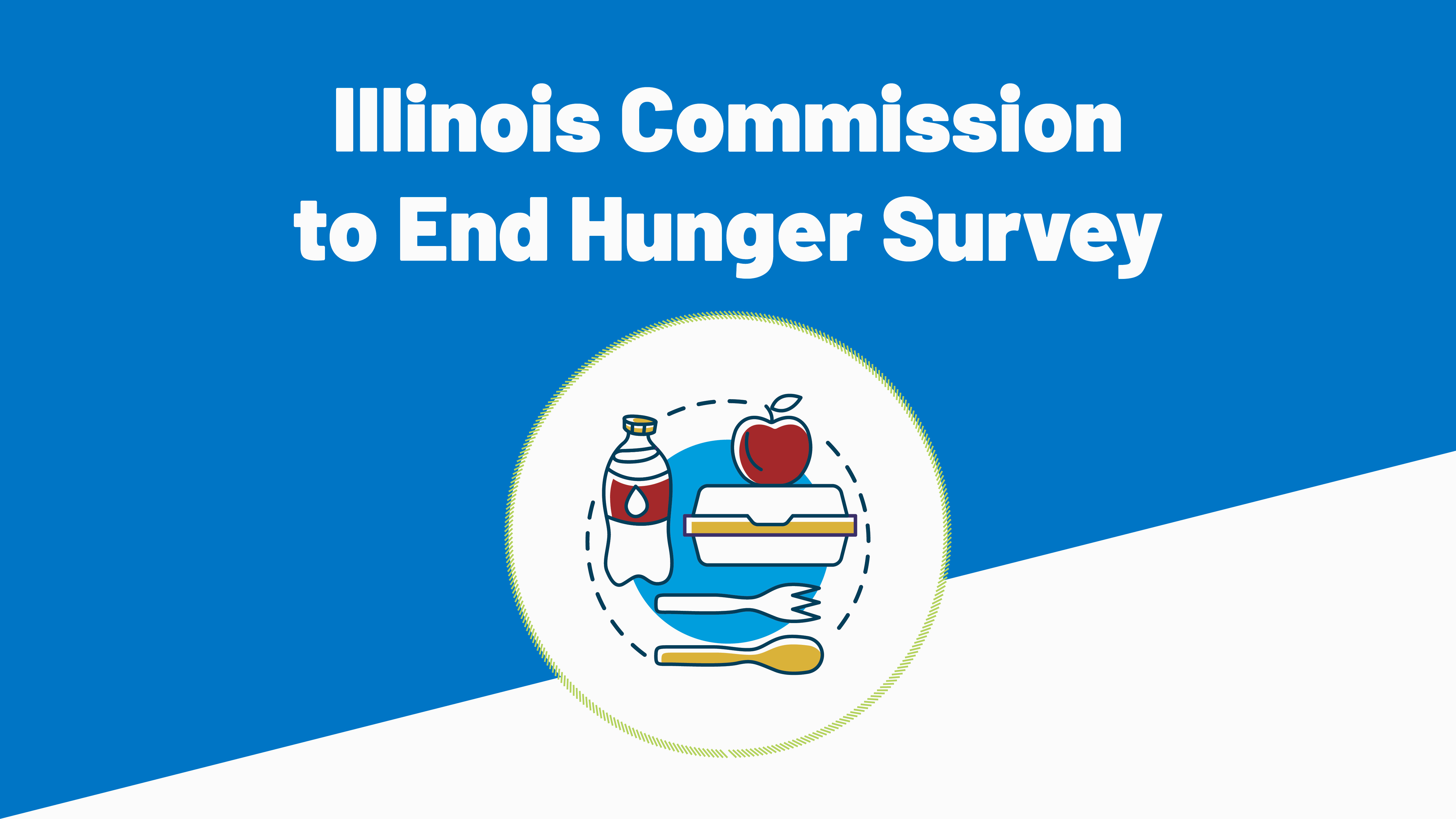 Illinois Unidos COVID-19 Resources for Latinx Families 
IllinoisUnidos.com serves as the portal for the Illinois Unidos – a consortium of more than 150 Latino elected and appointed officials, health professionals, and representatives of community-based organizations. Please visit www.Illinoisunidos.com to learn more about the resources collected and developed to engage families and community members regarding their most frequently asked questions about vaccinations and mitigation measures, and accessing health, economic, and mental health community services.

NEW! NUTRITION
Deadline Reminder: NSLP Equipment Assistance Grants Application Due Jan. 14 
The U.S. Department of Agriculture Food and Nutrition Service provides funding to ISBE to provide equipment assistance through competitive grants to School Food Authorities (SFAs) participating in the National School Lunch Program (NSLP). ISBE has been allocated $1,062,275 to award grants to SFAs in this round of funding. 
ISBE is issuing a Notice of Funding Opportunity (NOFO)/Request for Proposals (RFP) for SFAs to apply on behalf of their NSLP schools for grant funding. SFAs can request funds to replace, renovate, or purchase new kitchen equipment that is needed to serve healthier school meals, improve food safety, and/or expand access to school meals. 
For full details, see the NOFO/RFP and information on how to apply, both of which are posted on the NSLP Equipment Assistance Grant webpage. The deadline to apply is 4 p.m. Jan. 14. 
If you have any questions regarding this funding opportunity, contact Emily Durbin at edurbin@isbe.net.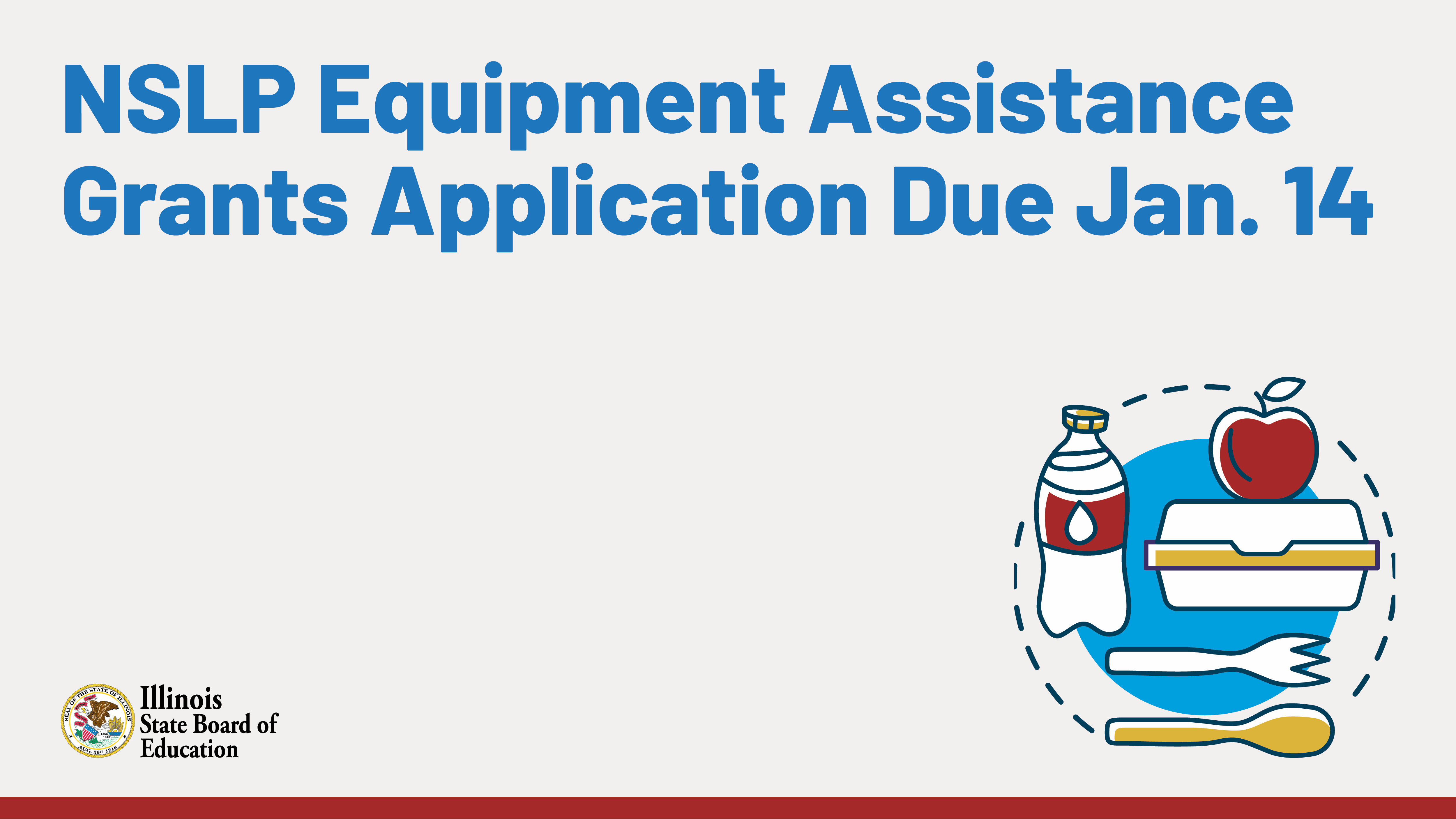 NEW! SAFE AND HEALTHY CLIMATE
IDHR issues Non-Regulatory Guidance Relating to Protection of Transgender, Nonbinary, and Gender Nonconforming Students 
The Illinois Department of Human Rights announced the release of Non-Regulatory Guidance Relating to Protection of Transgender, Nonbinary, and Gender Nonconforming Students under Illinois Law. Based on a recommendation from the Affirming and Inclusive Schools Task Force, the guidance provides a new resource for school districts, students, and families and caregivers to better understand their rights and responsibilities under the Illinois Human Rights Act (Act).  
Under the Act, students are protected from discrimination and harassment based on gender-related identity. This right includes the equal enjoyment of and access to educational opportunities, programs, and activities. Schools in Illinois can implement the protections of the Act by developing policies, procedures, practices, and training – some of which are discussed in the guidance – that ensure a nondiscriminatory and safe school environment for all students. 
Any Illinoisan, including minors, who believes they've been a victim of discrimination based on their gender identity, or any protected class under the Act, can file a charge online by visiting Illinois.gov/DHR or calling 312-814-6200. For more information, view the available press release. 
NEW! SPECIAL EDUCATION
ISBE Seeking Sealed Proposals for Specific Learning Disabilities Support Project and Behavior Assessment Training Project 
ISBE currently has the following Requests for Sealed Proposals available for bid in Illinois BidBuy. Both proposals are due Jan.19. For more information or questions, contact Jason Perry at jperry@isbe.net. 
Specific Learning Disabilities Support Project 
The vendor will be responsible for providing professional learning in the use of specially designed instruction for a diverse group of students across all grade levels who have specific learning disabilities in reading, written expression, and mathematics. The vendor will also be responsible for updating the current Dyslexia Handbook and developing and maintaining a Dyslexia Toolkit of resources for assessment and interventions for students with dyslexia as specified in Public Act 100-0617. The Request for Sealed Proposals can be found at Illinois BidBuy Bid Number 20-586SBE-CHFED-B-13922. 
Behavior Assessment Training Project 
The vendor will be responsible for the development of comprehensive, professional learning for special education personnel on culturally responsive Functional Behavior Assessment (FBA) practices and Behavior Intervention Plans (BIP) for students across all grade levels identified as having a disability in one or more of the 13 categories under the Individuals with Disabilities Education Act (IDEA). In particular, districts identified with a disproportionate rate of suspension and expulsion for students with disabilities will receive training and support on FBAs and BIPs. Additionally, the successful bidder will coordinate with ISBE on mandate 105 ILCS5/14-8.05, which requires ISBE to develop and implement state-level guidelines on culturally responsive, evidence-based behavior interventions for students across all grade levels identified as having a disability in one or more of the 13 disability categories under IDEA. The Request for Sealed Proposals can be found at Illinois Bid Buy Number 22-586SBE-FINAN-B-23806. 
NEW! STANDARDS AND INSTRUCTION
High-Impact Tutoring Webinar Jan. 26 
Research has shown that in-school tutoring is one of the best ways to support student learning. ISBE is offering a webinar in cooperation with a team from National Student Support Accelerator at Brown University. This webinar will provide an evidence-based foundation and examples of how to implement high-impact tutoring in your school district. Please join us for a presentation, along with a testimonial, and an opportunity for questions and answers from 11 a.m.-noon Jan. 26. 
ISBE Releases High School Graduation Guidance Document The Standards and Instruction Department is releasing a newly revised High School Graduation Guidance Document. The document is updated in an easy-to-read format and includes new standards, such as the new computer literacy, world language, and science laboratory graduation requirements, specified in Public Act 101-0654. If you have any questions, please email the Standards and Instruction Department at ILTeachTalkLearn@isbe.net.
NEW! STUDENT ADVISORY COUNCIL
ISBE Student Advisory Set to Convene 
On Jan. 18, ISBE's Student Advisory Council will convene (virtually). The event will highlight issues that impact youth across the State of Illinois, including the following key topics: 
Social-Emotional Learning  

Mental Health  

Trauma-Based Learning  

Implicit Bias  

Restorative Justice  

Pandemic-Related Concerns  

Student Voice  
 Visit www.isbe.net/studentvoices piece isfor more information. 
5ESSENTIALS
5Essentials Survey of Learning Conditions Window Announced 
The 2021-22 5Essentials Survey window will be Jan. 11-March 11. Participation in the 5Essentials or an approved alternate survey is required annually, as the survey is part of the non-academic indicators for the summative designation for accountability. Emails will go out to administrators soon to give them access to their survey accounts. Below are resources you might find useful. 
Updated information regarding the survey will be posted to ISBE's 5Essentials Survey webpage and the 5Essentials Support Center. If you have any questions, please contact the Wellness Department at 5Essentials@ISBE.net.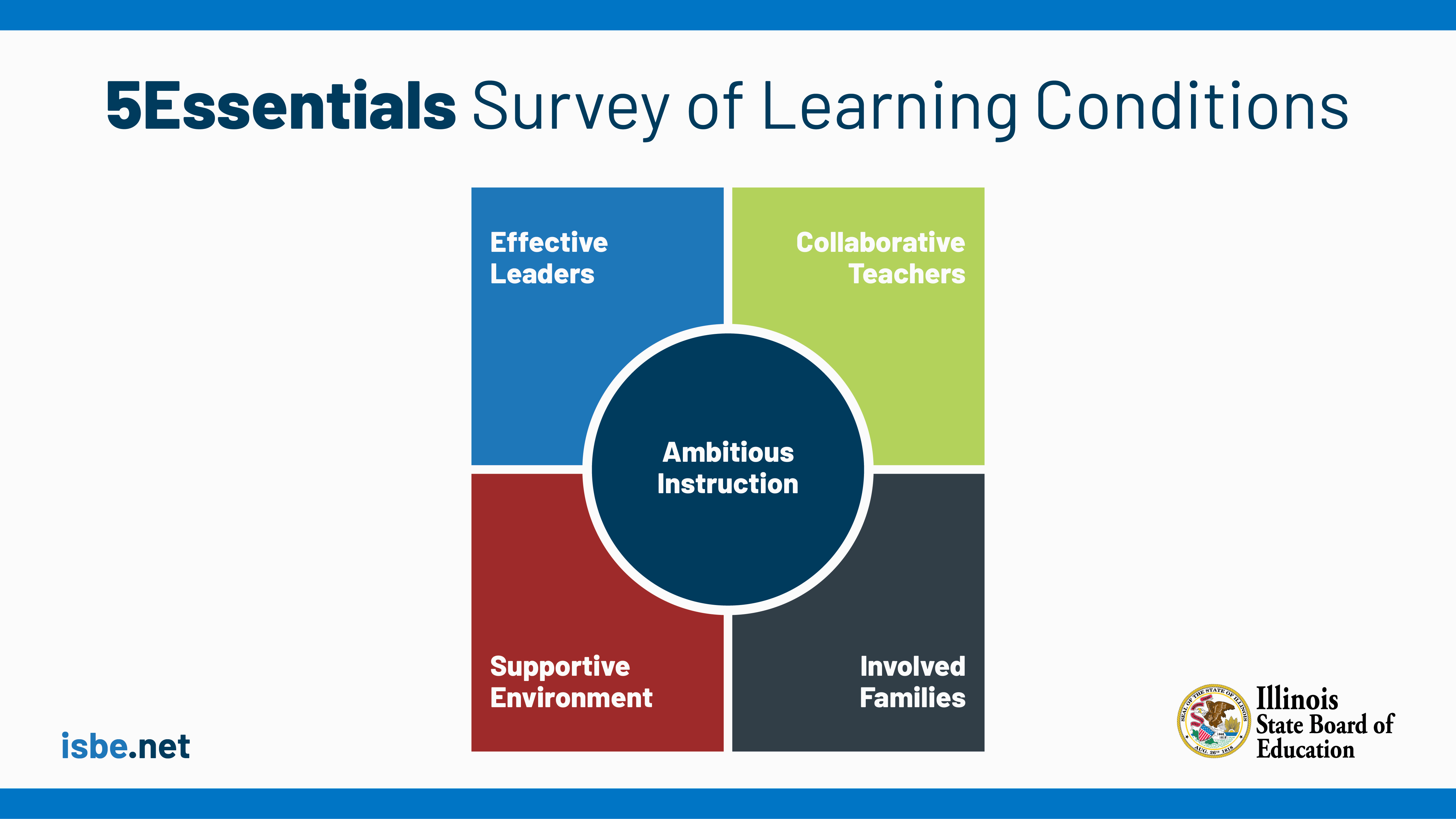 ACCOUNTABILITY
ISBE Seeking Public Comment on 2022 ESSA Accountability Amendment 
ISBE is seeking public comment on the 2022 ESSA Accountability Amendment through Jan. 14. ISBE must issue new summative designations using data from spring of 2022. Adjustments are needed to the currently approved system for it to work with the 2022 data. View the proposed changes, answer a short survey, or comment at www.isbe.net/summative or www.isbe.net/essa.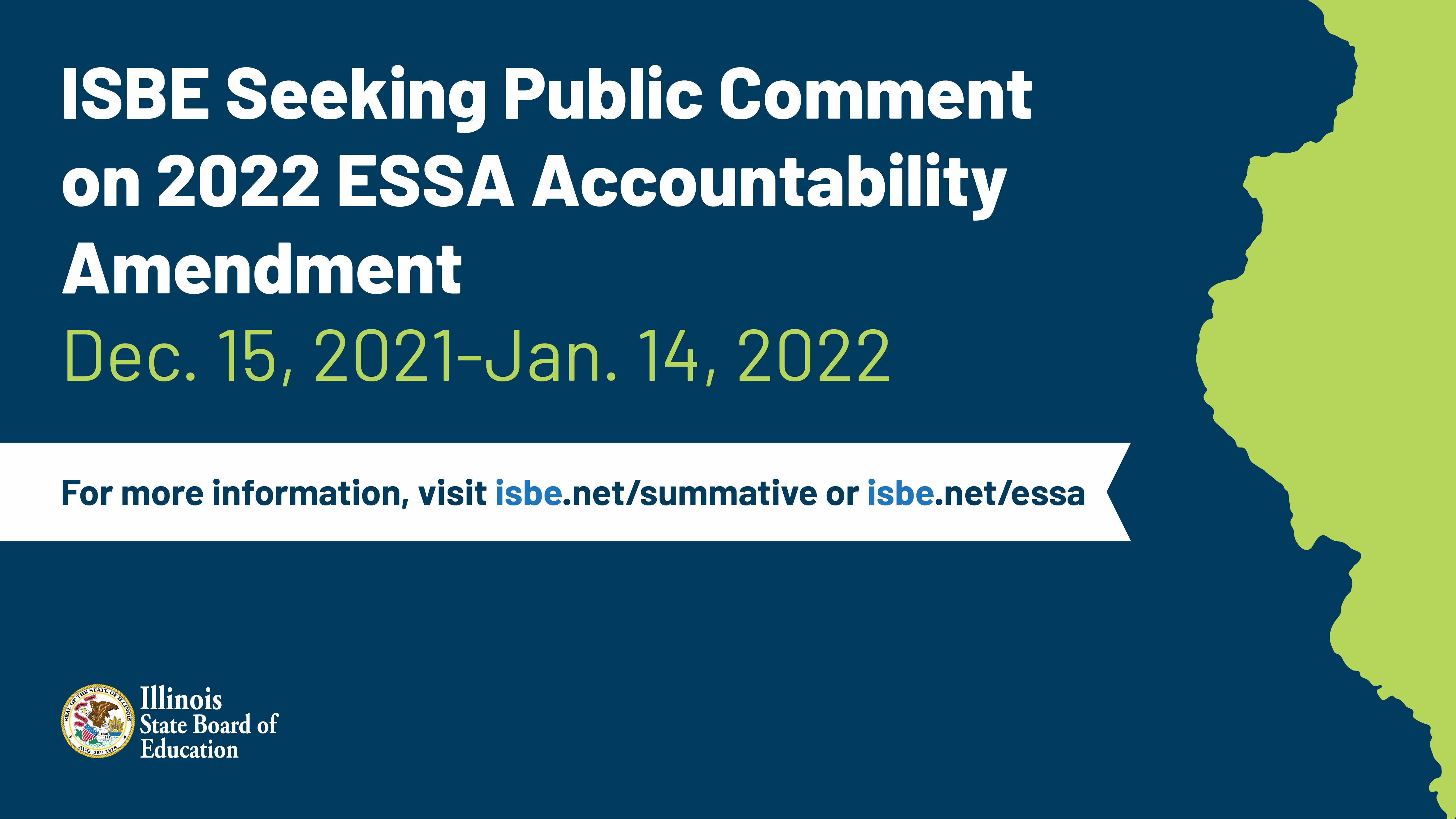 ASSESSMENT
ISBE Seeking Feedback to Improve Statewide Assessment System 
ISBE is exploring improvements to the state assessment system. An important part of this process is collecting feedback from stakeholders across the state to help us identify the priorities and potential options for moving forward. We have worked with our partners at the Center for Assessment to design a survey to collect feedback.  There is also a short video with the survey that provides some important background information we think you'll find useful to complete the survey. It will take about 30 minutes to watch the video and respond to the survey. 
You are an important part of this process and we want your voice to be heard. Thank you in advance for your input. The survey is available in both English and Spanish. If you have any questions, please email us at assessment@isbe.net.  
2021 IAR Spring/Fall Electronic Reports Now Available 
All PearsonAccess Next (PAN) users with the roles of District Test Coordinator, School Test Coordinator, and Report Access now have access to the fall 2021 Illinois Assessment of Readiness electronic reports, as well as the spring reports that were previously released. Districts/schools also have access to other reports, such as the District Summary of Schools Report, School Student Roster Report, and the Summary Data File. Please follow the instructions on how to access these files within PAN. 
EARLY CHILDHOOD
ISBE Announces Early Childhood Podcast 
STAR NET Regions I and III provide training and technical assistance for early childhood educators and families, with an emphasis on improving outcomes for young children with special needs. Check out the STAR NET Regions I and III podcast on Spotify, Apple Podcasts, and Google Podcasts. You also can access the podcast directly from the STAR NET Regions I and III website. Before listening to the anti-bias education podcast, we strongly encourage you to view the Apples video, Reflecting on Adult-Anti Bias Education Goals, featuring Nadia Jaboneta. 
EVIDENCE-BASED FUNDING
Reminder: Property Tax Relief Grant Application Deadline Approaching 
Reminder: EBF Property Tax Relief Grant Application Deadline Approaching 
The Evidence-Based Funding (EBF) Property Tax Relief Grant application period is still open to interested districts. The State Board will provide up to $49.7 million in Property Tax Relief Grants to eligible school districts in fiscal year 2022. The application period will end at midnight on Jan. 10. No late submissions will be accepted. Please contact State Funding and Forecasting staff at sff@isbe.net or (217) 782-0249 if you have questions.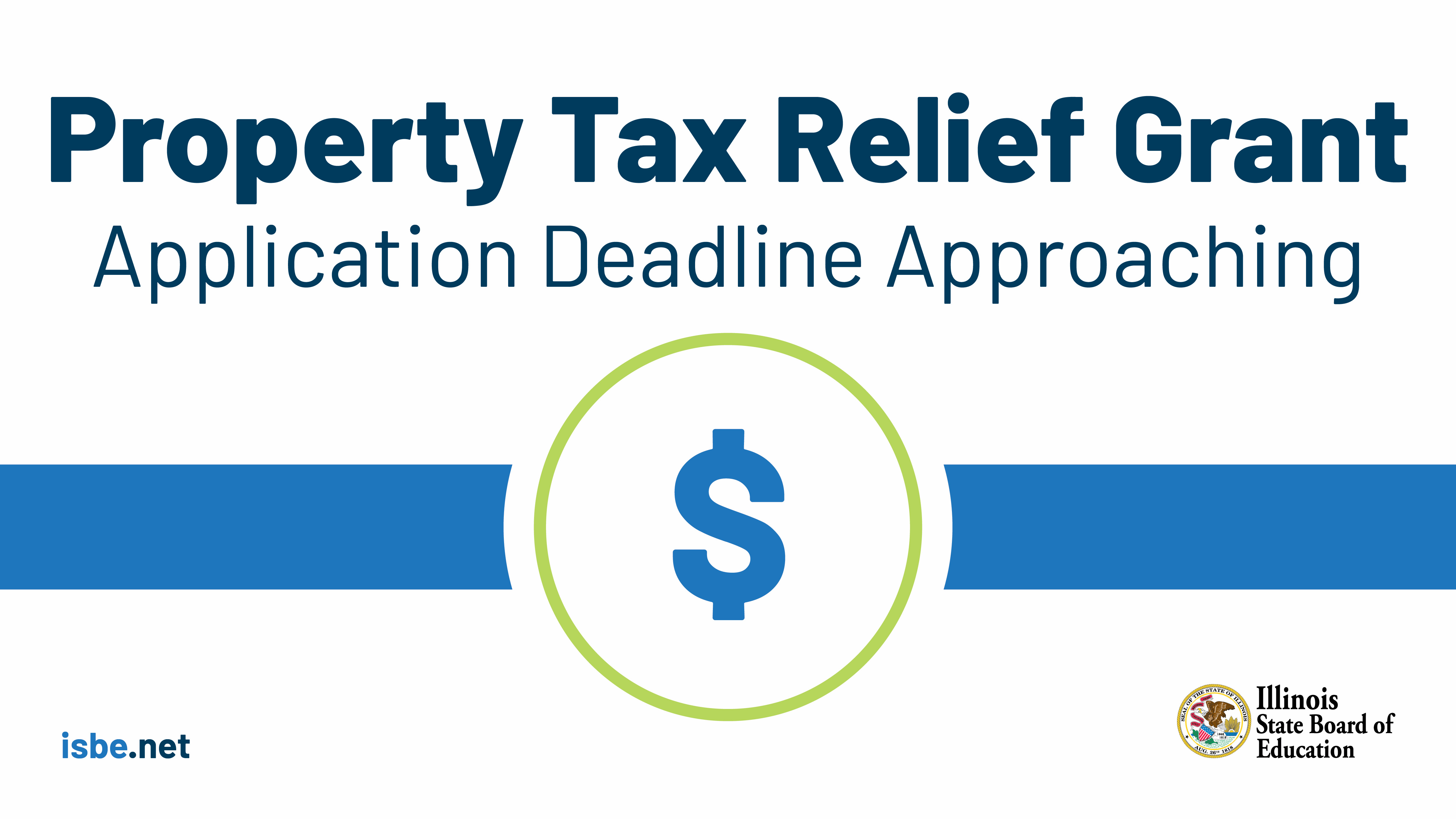 Deadline to Report Intent to Change from Half-Day to Full-Day Kindergarten is March 1 
Per the EBF statute, a school district may inform ISBE of its intent to convert from half-day to full-day kindergarten. Doing so will prompt conversion of all half-day students to appear as full-day students in the FY 2023 EBF calculation data for both average student enrollment and English Learner enrollment. The statutory deadline to report the intent to move to full-day kindergarten instruction is March 1. School district staff are asked to submit these documents to State Funding and Forecasting staff at sff@isbe.net. Please direct any questions you may have to sff@isbe.net or call (217) 782-0249. 
STUDENT CARE
Jett Hawkins Law Took Effect in Schools Jan. 1 
The Jett Hawkins Law prevents schools from prohibiting hairstyles historically associated with race; ethnicity; or hair texture, including, but not limited to, protective hairstyles such as braids, locks, and twists. This law took effect Jan. 1. For more information, visit isbe.net/jetthawkinslaw.​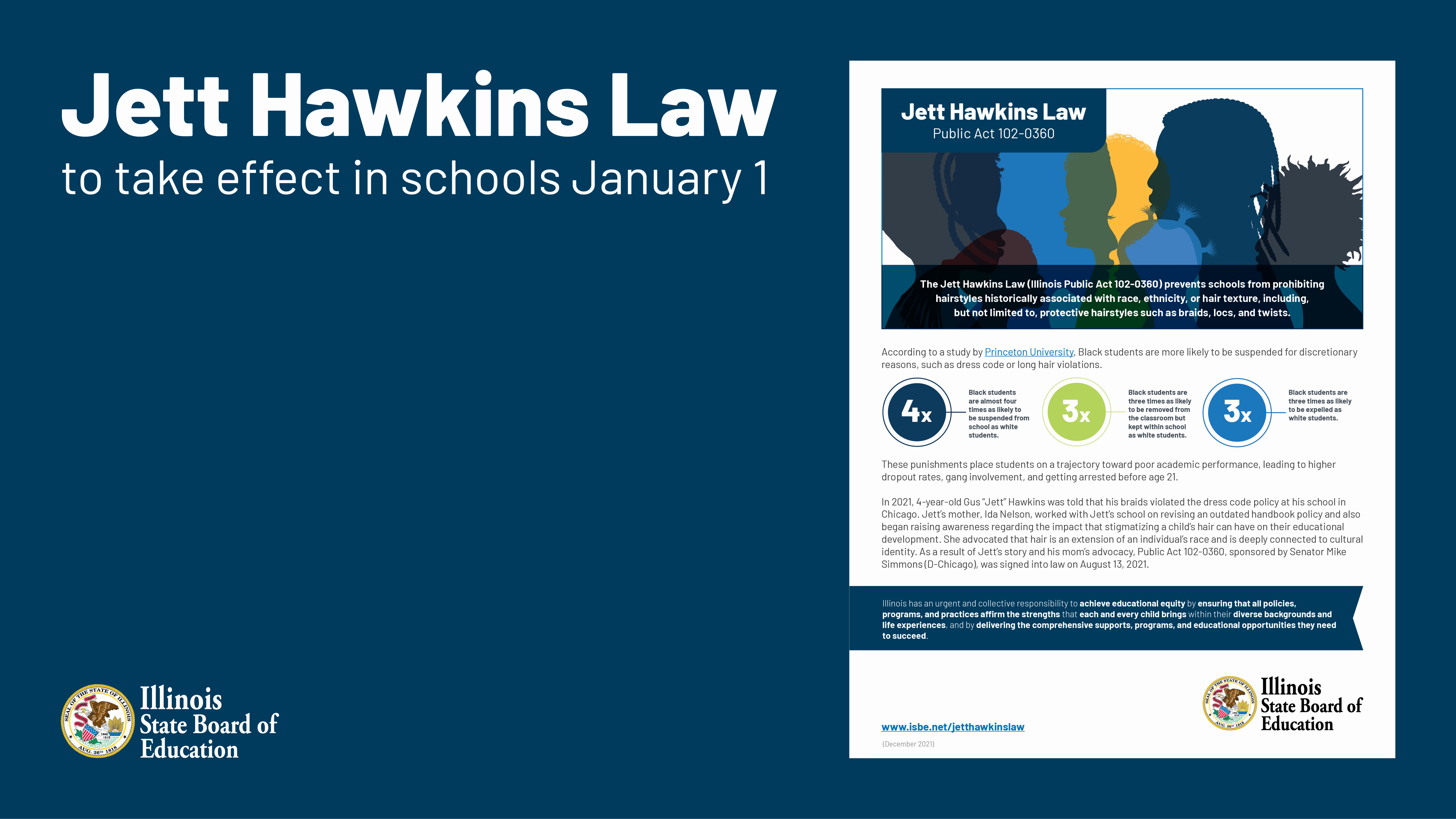 WELLNESS
ISBE Encouraging Participation in 2022 Illinois Youth Survey 
ISBE is encouraging all schools to participate in the 2022 Illinois Youth Survey (IYS). Visit the Illinois Youth Survey website for more information. School registration is now open for the 2022 IYS. Contact cprd-iys@mx.uillinois.edu with any questions.

ISBE Announces Training to Assist Districts Looking to Expand Capacity for Nurses to Complete Health Evaluations 
Registered nurses (RNs) with an ISBE Professional Educator License (PEL) endorsed in School Nursing as written in School Code are qualified to perform any job duties that include academic evaluations. 
Districts who have been unsuccessful in hiring PEL school nurses may request an RN with at least a bachelor's degree to complete an online course to obtain an IEP designation for non-PEL RN. Such districts may apply to ISBE to train a non-PEL RN and remain in compliance with special education rules. We are establishing two cohorts for the upcoming online course RNs in Schools – Expanding Your Special Education Role:  
District administrators and special education directors needing to fill this role should go to the "Training Opportunities" tab on the School Health page. Any questions may be sent to schoolnurse@isbe.net.
Educator Opportunities
Ali and King Commemoration 
This year commemoration of two American champions of civic justice, Muhammad Ali and Dr. Martin Luther King Jr., both  occur on Jan. 17. The Illinois Muslim Civic Coalition has provided two opportunities to celebrate. Help commemorate these two American icons by ordering a free 11 X 17 poster for your classroom. You can also join the coalition for the Deliberate Dialogue event, virtually or in-person at the Chicago Theological Seminary (CTS) in Hyde Park, 1-2 p.m. Jan. 17.
Deliberate Dialogue focuses on Ali and King's models of hope, courage, and conviction through extreme challenges and features opening remarks by Rev. Jesse Jackson with Maryum Ali, daughter of Muhammad Ali; Dr. Aisha El-Amin, UIC Associate Vice Chancellor for Equity and Belonging; Donald Lassere, 
President of Chicago History Museum and former President of the Muhammad Ali Museum in Louisville; coalition leaders Dr. Dilara Sayeed and Maaria Mozaffar, and others.
District Opportunities
Illinois Green Ribbon Schools 
ISBE and Illinois Green Alliance are pleased to announce the deadline for schools to submit applications for the Illinois Green Ribbon Schools program has been extended to Jan. 24. Additional information about the timeline and the application for K-12 schools can be found on the Illinois Green Alliance website.
Efficient and Healthy Schools 
The U.S. Department of Energy, with support from Lawrence Berkeley National Laboratory, the U.S. Environmental Protection Agency, and U.S. Department of Education, has launched an Efficient and Healthy Schools campaign to engage K-12 schools to improve energy performance and indoor air quality in school buildings. Joining the campaign is easy and free. Start by filling out a simple form to provide some basic information about your schools. For more information, please visit this website or email EHSC@lbl.gov.
Professional Development Opportunities
Ed Leaders Network
Ed Leaders Network is offering the following live webinar and recorded course. Visit the Ed Leaders course library to view the entire selection available.
3-4 p.m. Jan. 18: Cultivating a Culture of Student Data Privacy – Principals, teachers, related service providers, and other educational staff have access to monumental amounts of student data. This course explains why that matters, and how building-level staff can work together to cultivate an understanding of – and commitment to – student data privacy.

Fostering a Data Literacy Culture – (3 PD hours) This Fostering Data Literacy course will provide participants research-based information focused on developing a commitment to continuous improvement at all organizational levels based on data.
The Illinois State Board of Education is the State Education Agency for Illinois. Our mission is to provide each and every child with safe and healthy learning conditions, great educators, and equitable opportunities by practicing data-informed stewardship of resources and policy development, all done in partnership with educators, families, and stakeholders.
Click here to change your Subscription Preferences. Click here to unsubscribe.