Click here to view this email in your browser.
Look for this newsletter as your regular communication from the Educator Effectiveness Team. For more information regarding educator preparedness and licensure updates, please visit isbe.net/link.
PATHWAYS TO LICENSURE
Do you know of schools or districts that need to fill vacant teaching positions before the start of the school year? Invite them to check out the new licensure pathways flyers located on our Resources Page to assist  with filling vacant positions. 
EDUCATOR LICENSE RENEWALS
Renewal season is coming to a close. Please ensure you are contacting educators within your region who have yet to renew their license. All licenses will lapse on Sept. 1 if not renewed. 
PD TRACKING SYSTEM
Over the last year, the Educator Effectiveness Team has been in the process of creating an improved professional development tracking system, PD+.  PD+ will be a system used by educators and PD providers. Phase I of system development is nearing completion. To learn more about PD+ and the phases of production, check out our website.
LICENSURE TRAINING TOPICS
The Educator Effectiveness Team is preparing for fall ROE/ISC Licensure Training. If you have licensure topics you would like addressed, please email your ideas to Morgan Lovelace at mlovelac@isbe.net. 
RUSH REQUESTS
An application status cannot not be updated to "Rush" unless the educator has all appropriate documentation on file. All documents must be on file to make the application "workable"; the application status will not be changed to "Rush" until documents necessary for an evaluation have been received. Please review what documents are necessary to make an application workable. Please ensure that you are completing the Rush Request form in its entirety, and that  appropriate signatures are on the form. A properly completed form ensures that you have confirmed necessary documentation is on file so that the application to be worked.
Illinois Institutions of Higher Education
NATIONAL STANDARDS ALIGNMENT
National Standards alignment for all special education (full approved) programs must be aligned by Oct. 1. Use the National Standards Transition Guide for additional guidance and resources. 
LICENSURE OFFICER RESOURCE GUIDE
A new Licensure Officer 101-Resource Guide is now available. This guide provides resources, links, step-by-step processes for everything related to entitlement. 
UPDATED 'HOW TO APPLY' DOCUMENTS
Updated versions of "How to Apply for an Entitled PEL" and "How to Apply for an Entitled ELS-APE" are now available on the licensure officer website. Please share these documents with your program completers. 
UPDATE YOUR CONTACT INFORMATION
A new school year may mean change in administration, faculty, staff, etc. Now is a great time to make updates to your institution contacts and/or IWAS administrator.  

To update your contact list in Annual Program Reporting (APR),  use the APR User Guide on page 7.
To add IWAS users or change the IWAS administrator, follow steps here.
LICENSURE OFFICER TRAINING
Registration for fall 2021 Licensure Officer Training is now OPEN! The mandatory annual training for all licensure officers (per school code 105 ILCS 5/21B-100) will be held virtually in October. Licensure officers should register for one session, either Oct. 12, 13, or 14. Register today, spots are limited for each session. 
EPP BADGES
Illinois Educator Preperation Profile (IEPP) badges are now available for programs that received a Commendable or Exemplary designation on the 2020 IEPP. These badges can be placed on institution of higher education marketing materials and are available by emailing your ISBE liaison or preparation@isbe.net.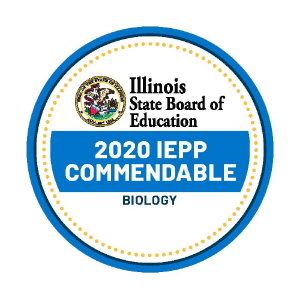 The Illinois State Board of Education is the State Education Agency for Illinois. Our mission is to provide each and every child with safe and healthy learning conditions, great educators, and equitable opportunities by practicing data-informed stewardship of resources and policy development, all done in partnership with educators, families, and stakeholders.
Click here to change your Subscription Preferences. Click here to unsubscribe.